If you're doing a lot of online classes these days, you may wonder how to set your space up for optimal tranquility. I have a few tips, especially for those of you in tight quarters.
Create a sacred setting with a few favorite things, similar to what I recommend for TDJ Live events and virtual retreats. Think candles, twinkle lights, flowers, plants, crystals, lavender oil, libations, cozy textures—whatever feels good. None of these take up much space and set a nice tone.
Here's a peek at my ballet and yoga set up in a tiny space. I push my sette toward the dining room table and create my own little studio for daily practice.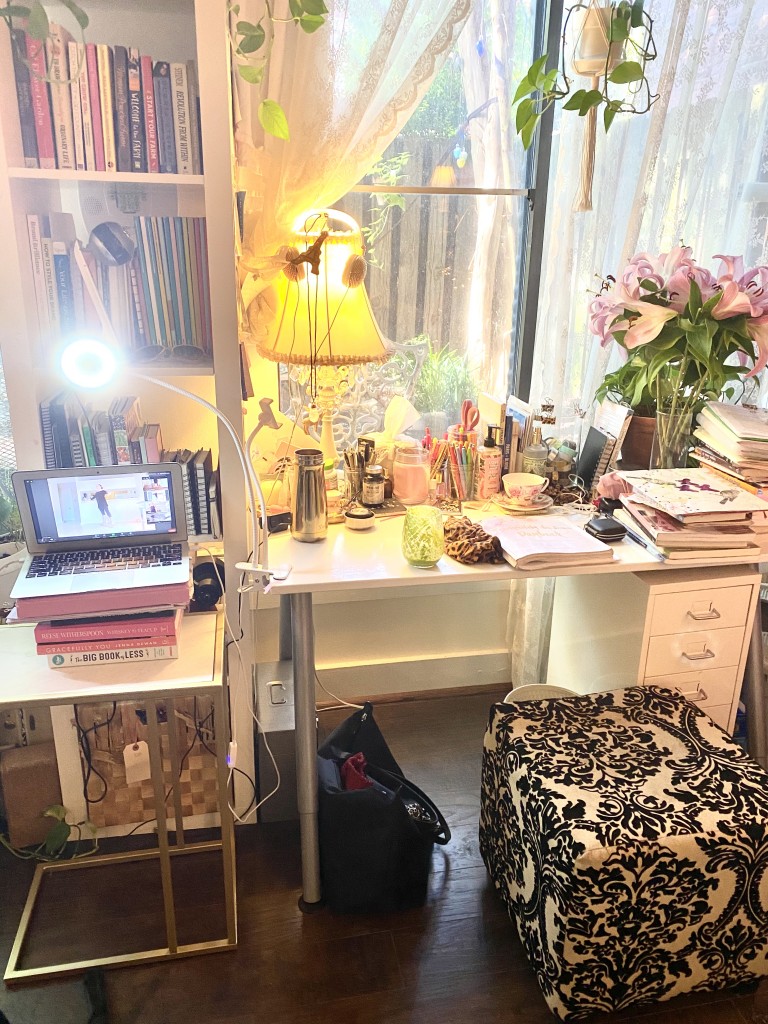 For yoga, I roll out a pink or leopard-print yoga mat, have a cork block, damask meditation cushion, and eye pillow nearby and wear my signature 2in1 fitted and capri leggings in black. For ballet, same outfit and substitute the other items for a chair or ballet barre.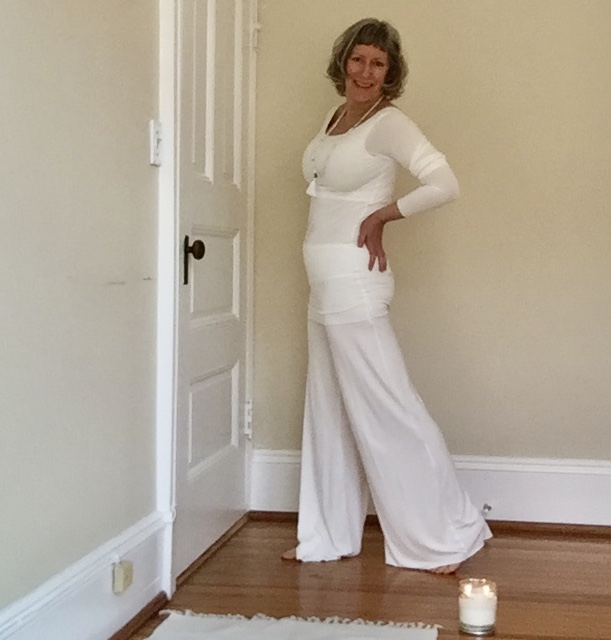 Barbara, who's been donning TranquiliT since 2007 and was a guest on our recent TDJ Brunch, radiates natural tranquility and elegance in her au naturel (undyed organic bamboo) pieces.
Here she is in her home yoga studio wearing the 2in1 fitted and palazzo pants—perfect for her Kundalini practice.
Barbara writes, "In addition to a steady commitment to slow, local, bespoke eco-fashion (everything in my closet is TranquiliT), I also believe in supporting small, women owned business. Need some ideas to elevate your own home practice? Look no further."
Here are a few of her favorite home practice essentials (shown above):
TranquiliT (2in1 fitted and palazzo pants)
Meditation Pillows by Mama Wilson
Unscented Candles crafted by Jenny Krahn
Rug and Mala handmade in Mysore and imported by Bristol Marriot
Since we now have access to so many amazing teachers and classes online (I take daily ballet classes with Ballet Academy East in NYC), let's turn these practices into sensory experiences to nourish our mind, body, and soul. Bisous. x
The post Home Practice Essentials appeared first on Kimberly Wilson.